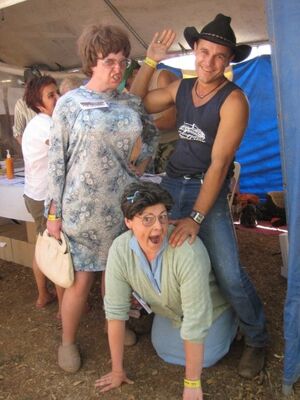 Celia Black is the president of the CWA alongside Ol' Madge Barker, who is her vice president. Celia is very sharp and anal about details and believes if you can't get the job done right, then don't bother in the first place.
Celia was created and played by Lorenne Ramanauskas as part of Pop n' Flo. She made her Nan & Cola movie debut in Nan & Cola: The Movie.
Celia Black's Nan & Cola Movie History
Edit
Celia Black Facts!
Edit
- Celia famous catch cry is her screechy, 'Owwwwrrrrr!"
- Celia will have a blink and you'll miss it cameo in Force of Fibreglass!
- Celia will also feature in the upcoming Ol' Madge spin off 'The Ol' Madge Murders'