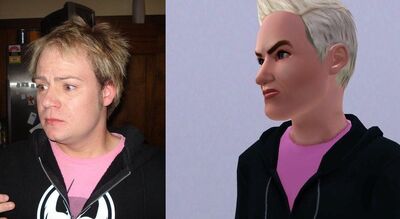 Jase Shrubb is a good friend of Joel's who pops up time to time. Jase made his debut in the Christmas Special, and is seen fishing.
Jase Shrubb's Nan & Cola Movie History
Edit
Merry Christmas from Nan & Cola (2010)
Nan & Cola: Fibreglass Island (2011)
Jase Shrubb Facts
Edit
- A photo of Jase can be seen with Nan Booberson in the final photo montage of Heart of Fibreglass: The Nan Booberson Story. He is credited as "Almost Step-Daddy" - as he is Joel's ex!
- Jase is playing computer games with Jack in Nan & Cola: Fibreglass Island.