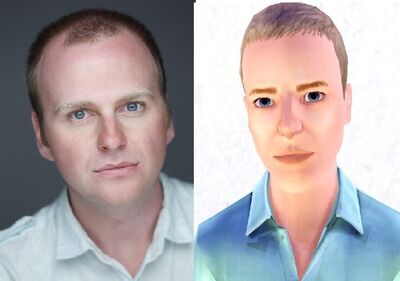 Joel Davies is the creator of Nan Booberson and Cola Tittmeyer. The girls refer to him as Pops' a father figure type person who has raised them and cared for them.
Generally, Joel is mostly a nervous wreck when it comes to the girls, having had them run away from home, be caught up in a murder investigation and then feared for their lives when they were in a plane crash on their way to Paris.
Joel also was seen as Professor Plum in Nan & Cola Catch A Killer.
Joel Davies' Nan & Cola Movie History
Edit
Heart of Fibreglass: The Nan Booberson Story (2009)
Nan & Cola Catch A Killer (as Professor Plum, 2010)
Nan & Cola's It Gets Better Video (2010)
Merry Christmas from Nan & Cola (2010)
Nan & Cola: Fibreglass Island (2011)
Nan & Cola's Force Of Fibreglass (2011)
Joel Davies Facts
Edit
- Joel has the most nicknames, from JC, to Pops, to Popsicle to Joelipops! Hence, where Popsicle Jones Pictures comes from.
- Whilst in Pop n' Flo, Joel played Ol' Madge Barker, Betty Bouffant, Paulette Nordledorse, Diana de Corpse, Wanda Pavlova, Gladys and Clumsi Clementine!
- Joel has had two Sims look-a-likes, the one featured in Nan & Cola: The Movie and Nan & Cola Catch A Killer, was scrapped and replaced with a better version.
- Joel was featured alongside Nan and Cola in UK's Chat Magazine.